John W. Snell Photography
---

Home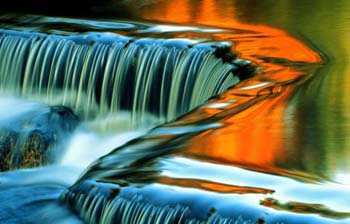 All images and text © Copyright John W. Snell, 1999-2001.
This page last updated on April 17, 2000.
Z Falls
Upstream from lovely Bond Falls is a tiny waterfall, perhaps 18 inches high, that's "z" shaped. I set up my tripod so the reflection of the bright orange tree on the other side of the stream passed over the waterfall. Exposure was 8 or 13 seconds.

Last | Next