Designer/Photo Buyer's Page

Home

About Me

Blue Ridge Parkway

California

Canadian Rockies

Colorado

More Colorado

Events

Great Smoky Mts.

In & Around Kentucky

Keeneland & Horses

More Keeneland & Horses

Lincoln Book Images

Michigan's Upper Peninsula

Notecards

Order Prints

Red River Gorge
Gallery 1
Gallery 2
Gallery 3
Gallery 4
Gallery 5
Gallery 6

River Cities - Ky

Utah/Nevada

West Virginia

Wildlife

Wyoming

Links

Contact Info
john@johnsnellphoto.com
Now available. Scroll down for order form.

After the 2008 Red River Gorge calendar sold out in only 7 weeks last year, we were determined to 1) print more this time and 2) get them out to the public more quickly. This 2009 calendar contains 12 new images that once again depict the awesome beauty of eastern Kentucky's Red River Gorge area (near Natural Bridge in the Daniel Boone National Forest).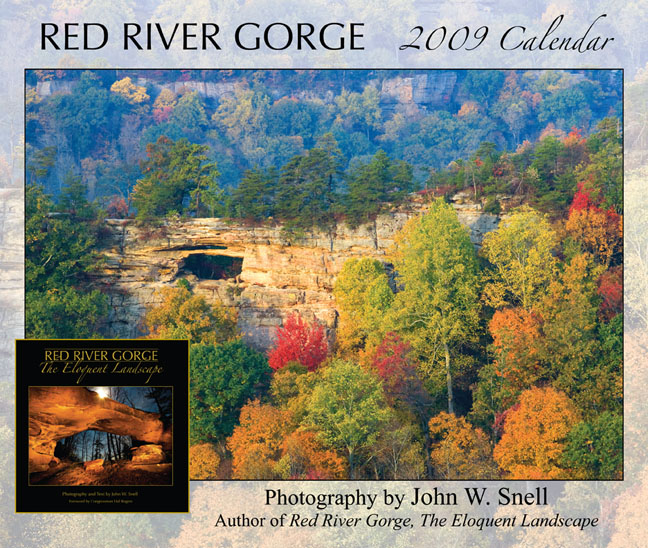 The large calendar opens to 13" x 22" (vertical). Twelve photographs from "the gorge" showcase one of Kentucky's most treasured areas, known for its 100-plus natural stone arches, extravagant displays of springtime wildflowers, stunning autumn color and varied recreational opportunities such as world class rock climbing, hiking, canoeing, camping and more.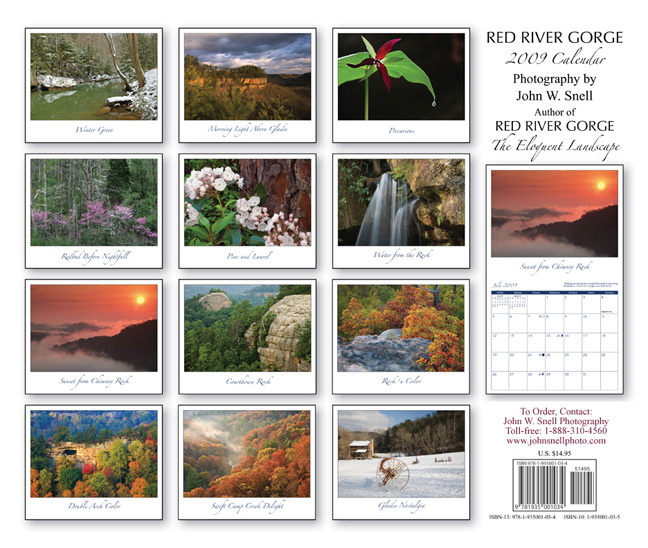 **Click Here for Book and discount calendar Order Form**



Quantities are limited, so get yours now! Lastly, the calendars are also available at Lexington, Kentucky retailers such as Joseph-Beth Booksellers(859-273-2911), Barnes & Noble (859-543-8518) and Good Foods Market & Cafe (859-278-1813). Also carrying the calendars are Court Street Gifts in Winchester, Ky (859-744-3434), Promenade Gallery in Berea, Ky (859-986-1609), The Kentucky Artisan Center at Berea, Ky (859-985-5448), Porter's Chevron at Exit 33 of the Mountain Parkway (606-663-4766), Red River Outfitters at Mtn Parkway exit 33 (606-663-8858) and the gift shop at Natural Bridge State Resort Park (606-663-2214). Bookstores in the Louisville, Kentucky and Cincinnati, Ohio area also stock the calendar. Call ahead for availability.

**Retailers, contact Acclaim Press to place orders. **

---